LARGE SCALE SITE SPECIFIC ART INSTALLATION - CONCEPT MODEL #1
Aluminum mesh, wooden rods | Industry City, Brooklyn 2019
The Cluster: The process of Making it Real
Special thanks to Brooklyn Glass and Studios Architecture team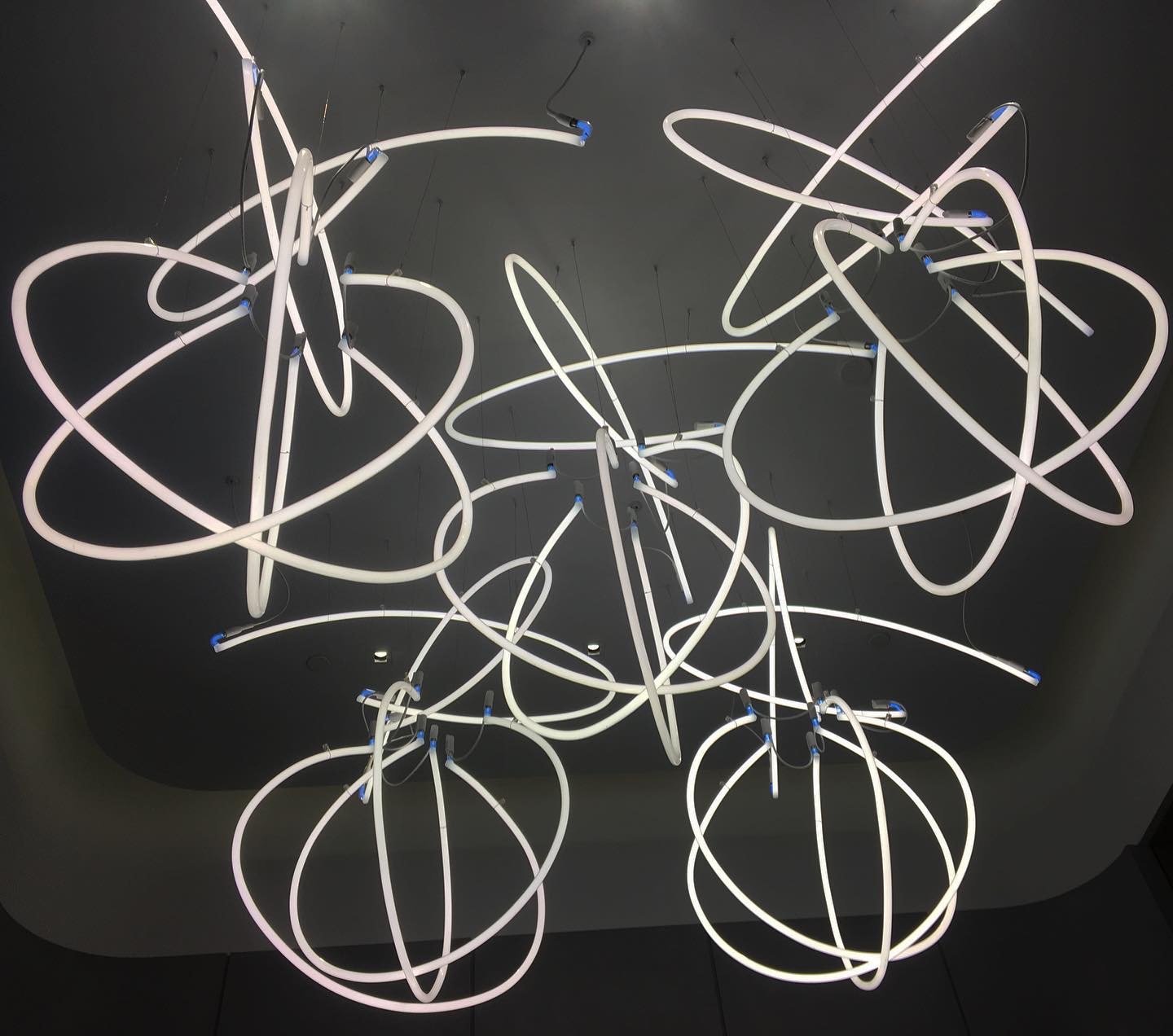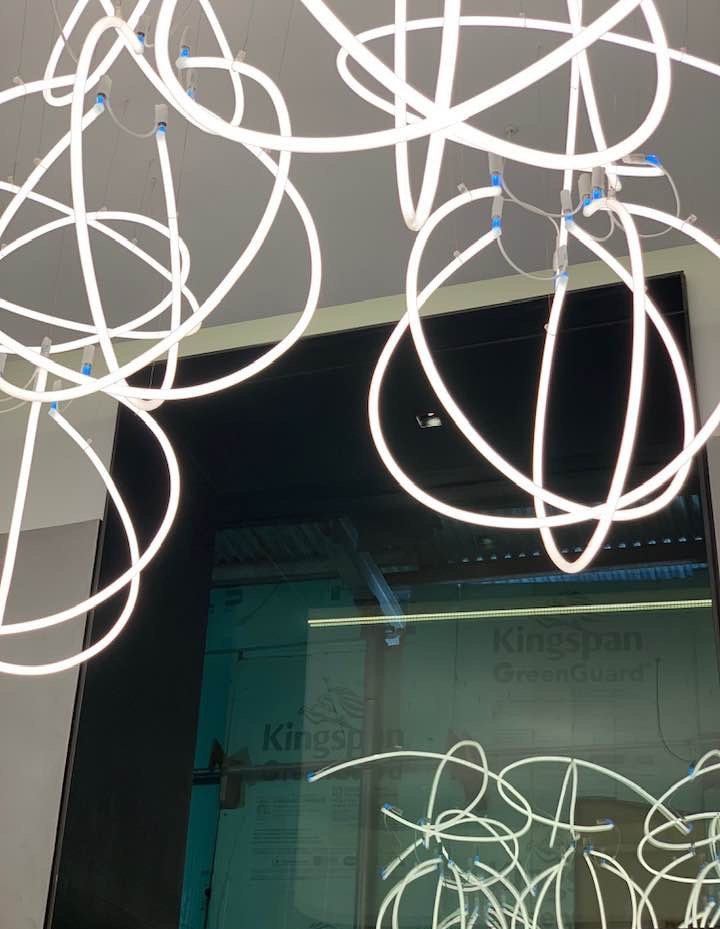 COLLABORATION WITH PALM ANGELs i SPRING SUMMER 2020 mens fashion show i MILAN FASHION WEEK MILAN ITALY JUNE 2019
I am thankful and very happy to be able to collaborate with Palm Angels on their Spring/Summer 2020 Menswear, presented at Milan Fashion Week SS20. All one of kind hand made necklaces and bracelets were designed and made by myself - Margarita Mileva especially for Plam Angels SS2020. Palm Angels introduced the audience to various wearable sources of joy including leisure suits; basketball shirts with tattoo or pin-up girl prints; cavalry striped slacks; fishtail parkas; and Magnum P.I.-style Hawaiian prints on shirts and outerwear, accessorized—like every look here—with Lei-like rubber band garlands. These looks were carefully remixed to resonate freshly and featured eye-catching asides—extra strapping, detachable leather pochettes, single-lens cyclops sunglasses—to add an extra sheen of newness. Slingback cushioned sneakers were geekily cool, as were the boxy rainbow gilets.
MFW Men's SS20: Palm Angels. Intrigued by the way a vintage store can be equally familiar—filled with that vague smell of old perfume, a selection of odd Hawaiian shirts, tie-dye, and discarded army uniforms—and entirely new at once, Palm Angels' Francesco Ragazzi aimed to recreate those sensations for Spring/Summer 2020. A comfortable feeling of normalcy sits at the base of the designs, while each piece remains entirely new and utterly exciting. The usual vintage store finds are altered and elevated—like tie-dye washed jeans, utilitarian work vests in white, and Hawaiian florals transformed into blazer jackets. Standout details included the eyewear reminiscent of a pair of virtual reality glasses, the lei-inspired necklaces constructed of knotted chord, and the recurring butterfly motif, seen throughout in the form of prints, patches, and graphics.
BACKSTAGE AT MILAN FASHION WEEK SS 2020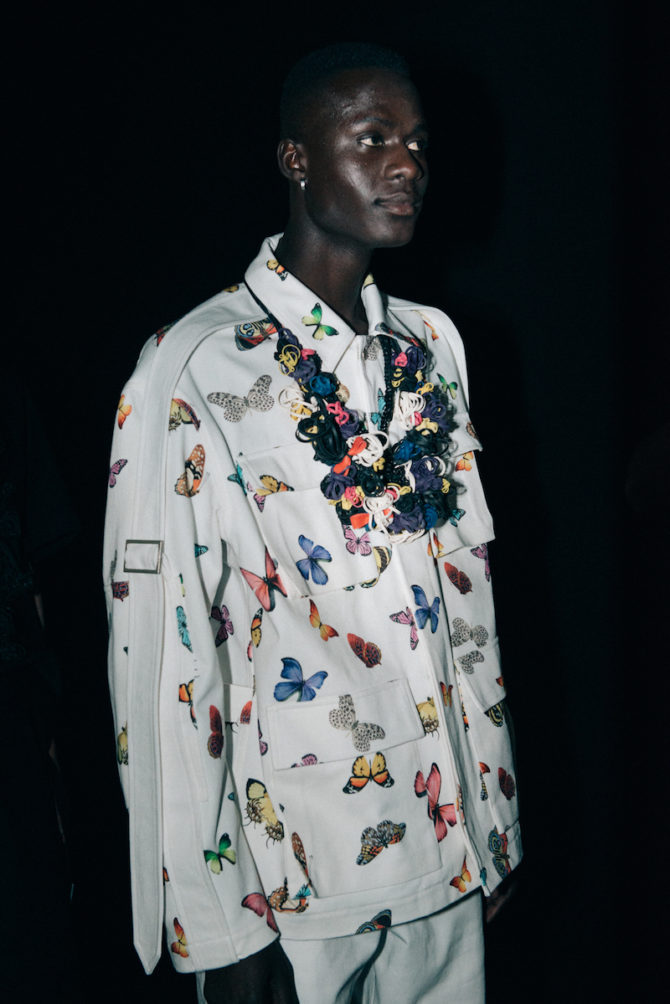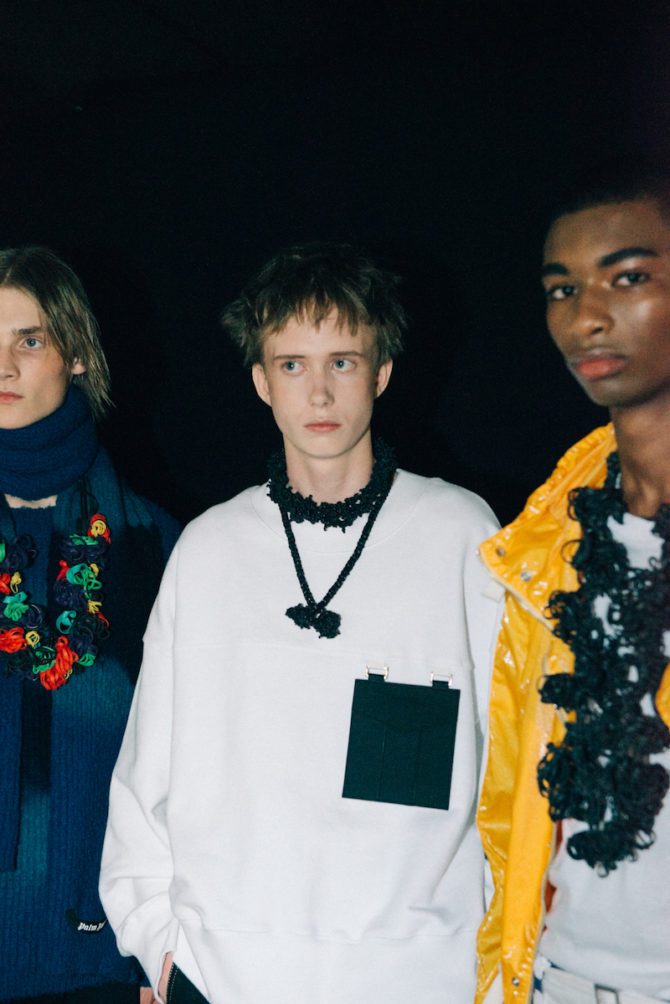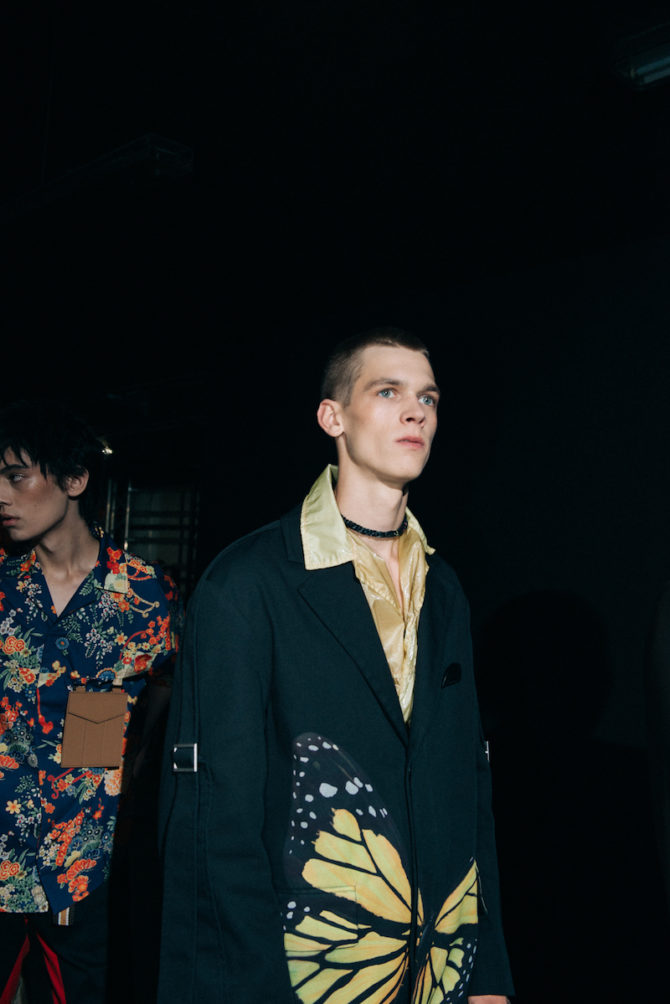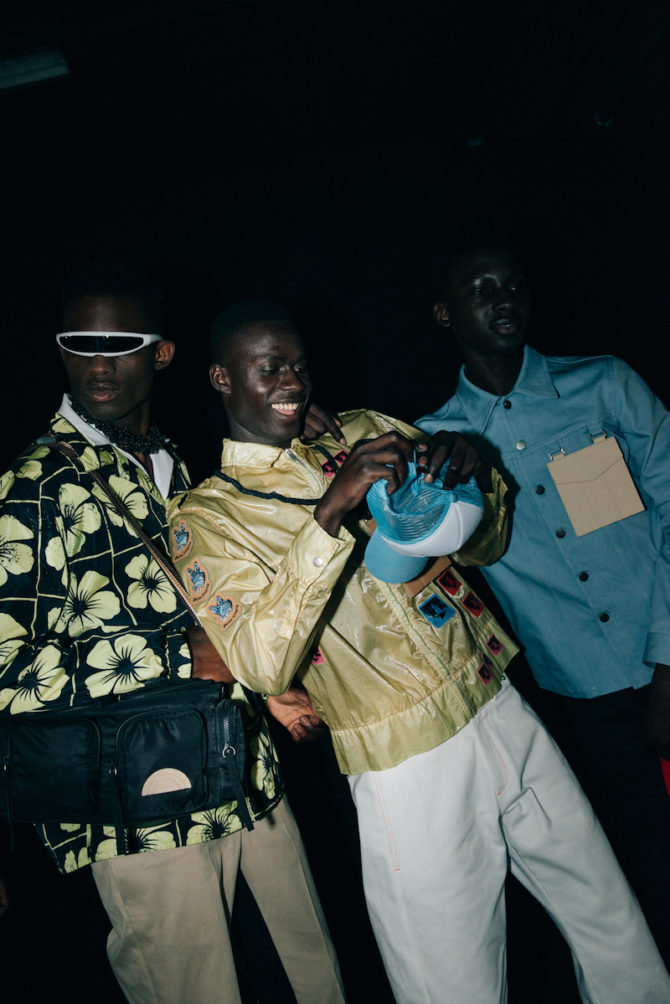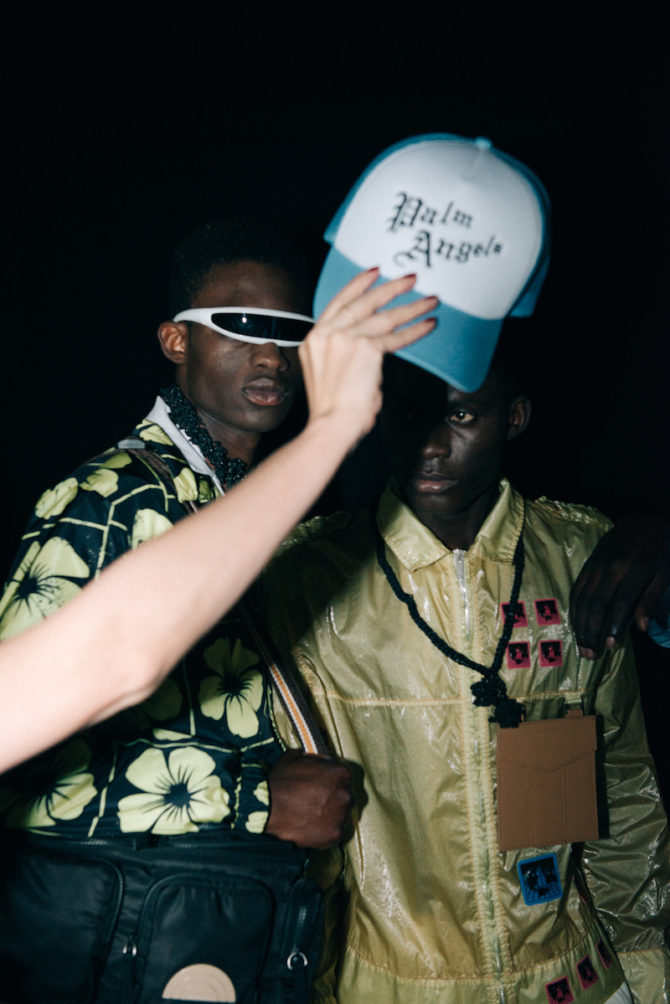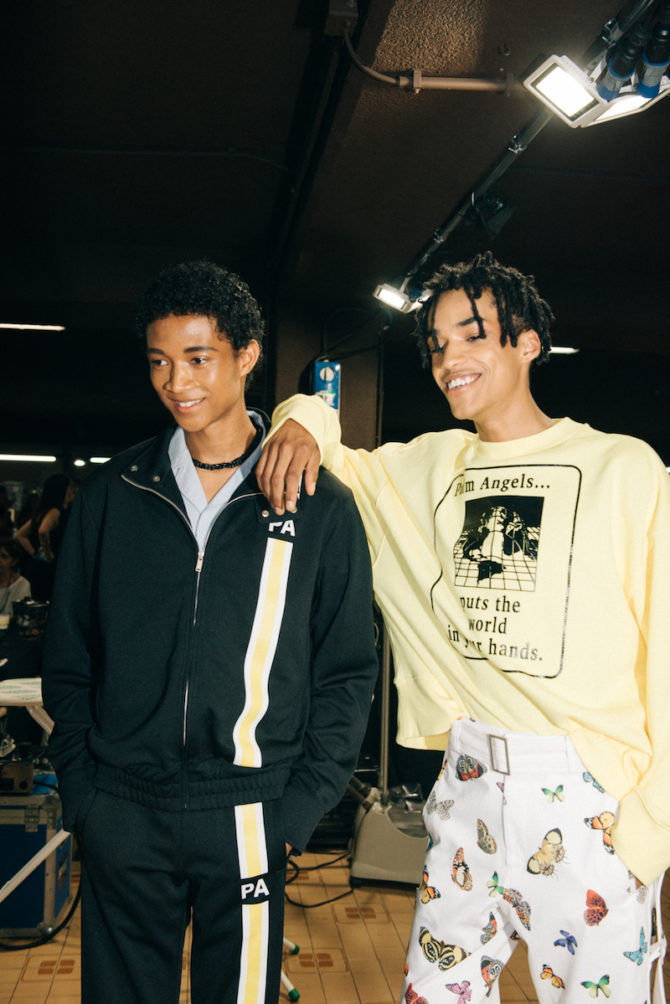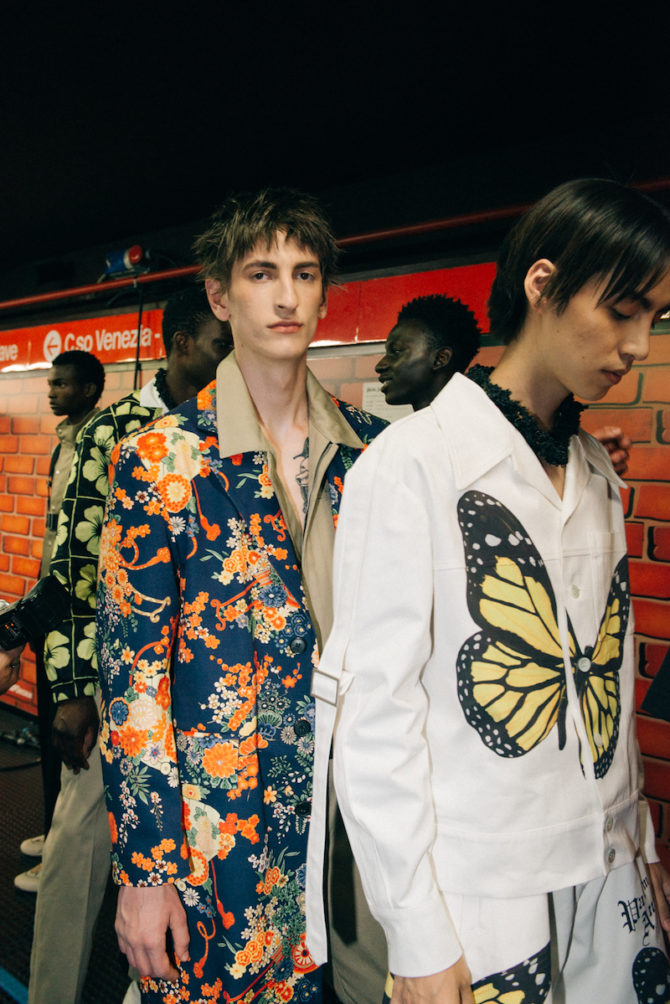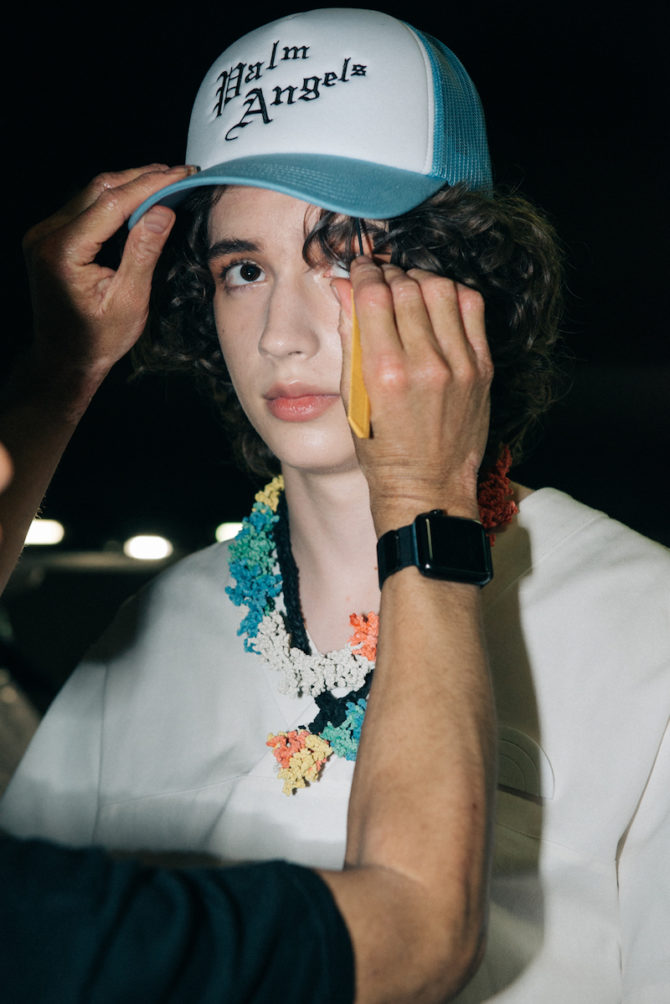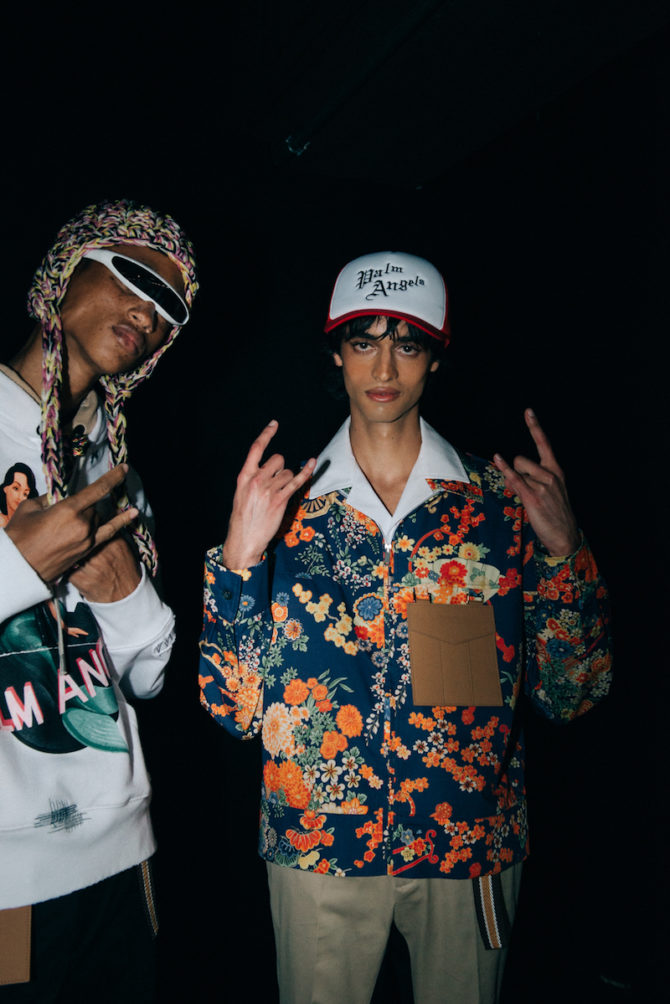 Photos by Sonny Vandevelde @ Milano Porta Venezia railway station
ANGELIQUE KIDJO : CELIA I CAPE NEW YORK 2019
I've created the cape celebrating the new album of Angelique Kidjo: Celia. Materials: Black rubber bands, recycled bicycle inner tubes colored pom-poms.
Télérama: Audacious and free, the Beninese singer, who released "Celia", a CD tribute to the Cuban muse Celia Cruz, continues to fight with her powerful voice. With her eternal outspokenness this icon of African music militates for the defense of women and the awakening of her continent. Back on an exceptional commitment. Diva of pop, the singer of Beninese origin Angélique Kidjo walked the most prestigious scenes, shared the microphone with the musical elite - from Miriam Makeba (1932-2008) to Alicia Keys, via Peter Gabriel or Carlos Santana - and no longer counts the distinctions she has received. On stage, the 58-year-old artist, as explosive as a chameleon, Africanized Celia Cruz and David Byrne, combines black rhythms in symphonic mode with punch; and does not lose her outspokenness in the official dinners, where the ministers fear her daring and her freedom ...
Arte Concerts: Angelique Kidjo and Guests, Paris 2019
The Flying Concerts give carte blanche to Angélique Kidjo! For this special issue, the African icon invites three of her friends on the top floor of the Arab World Institute: drummer Tony Allen and singers Fatoumata Diawara and Yael Naim. An evening that is shared between Africa, the Middle East and Europe.
ОЛИМПИЙСКО ДВИЖЕНИЕ 2018 i 2019 TEYADESIGN + M2ELASTIC
FASHION COLLABORATION SOFIA, BULGARI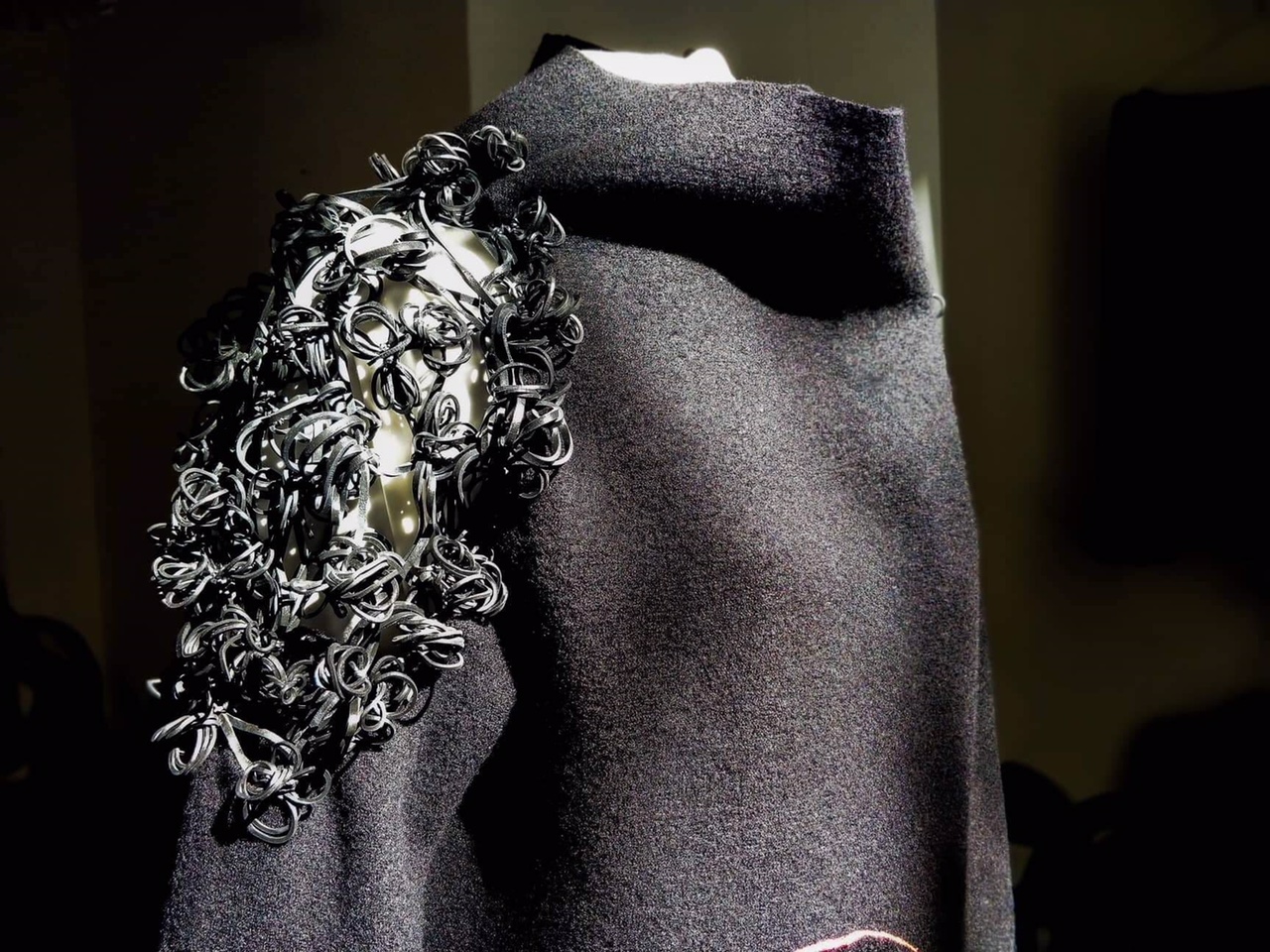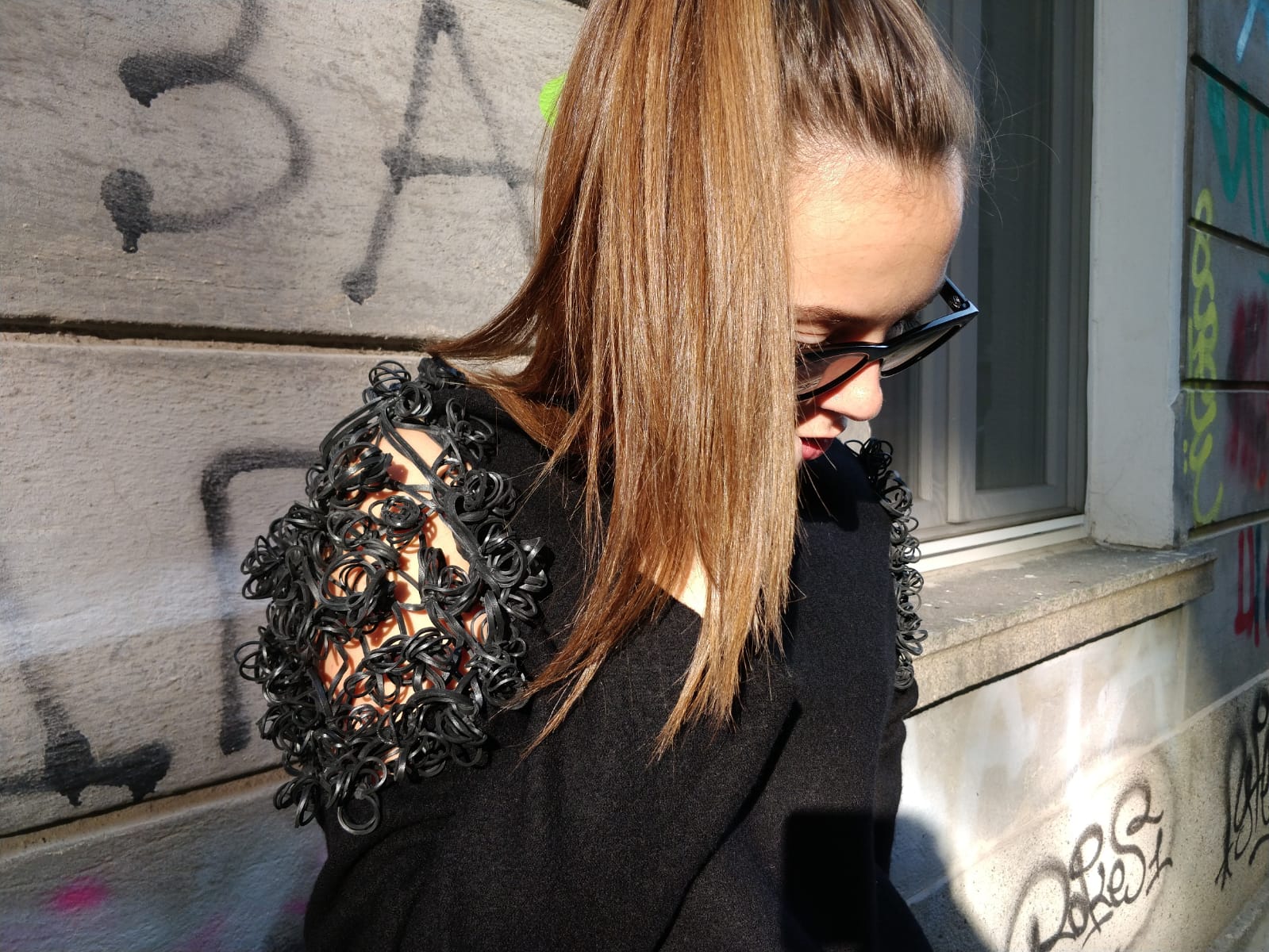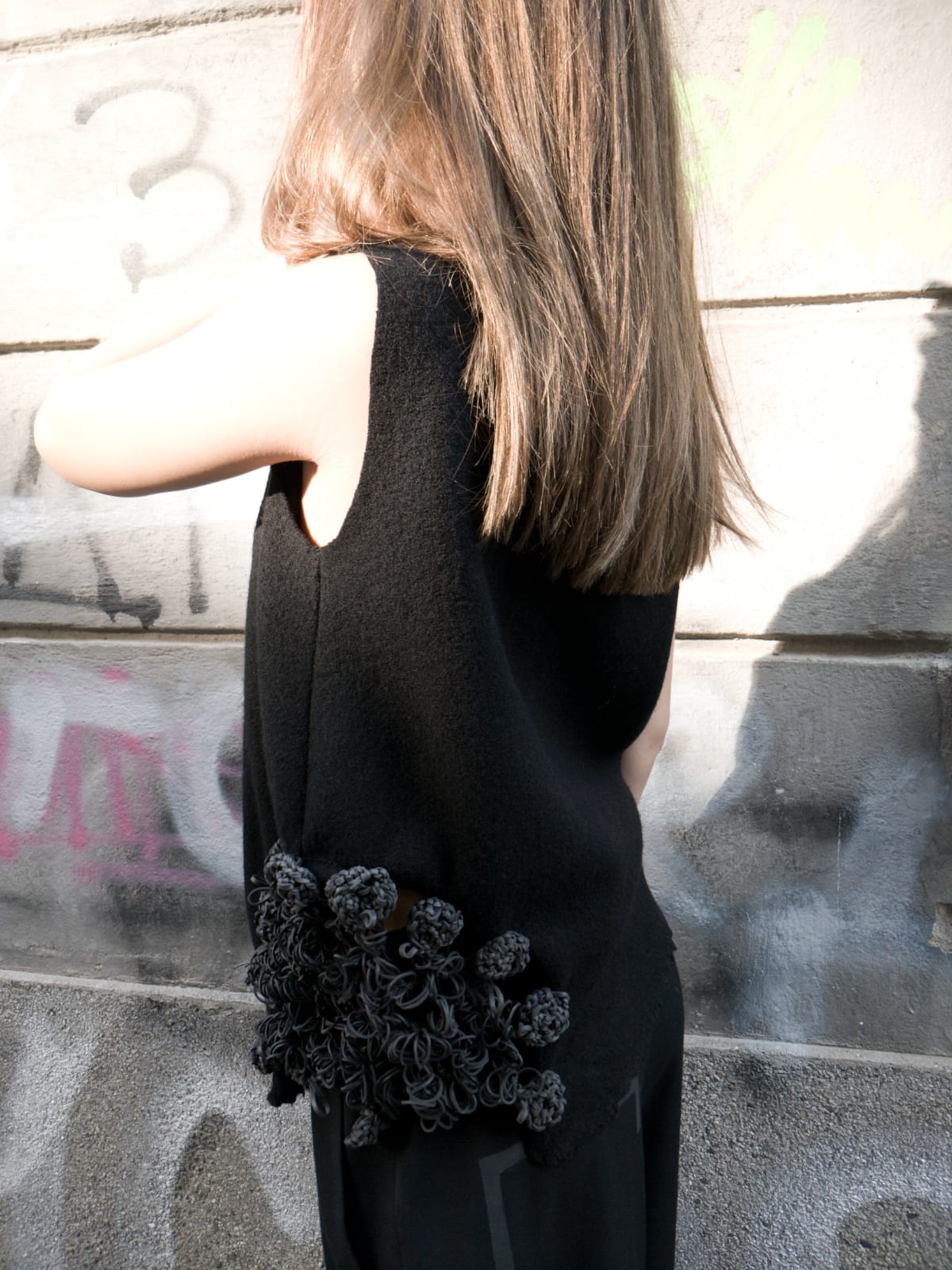 This project is result of a fashion collaboration with Teya Troshanova - friend, architect, inspiring designer. Friends of ours, architects as well, joined us in passing the rubber bands segments from New York to Paris to Sofia. The "game" began and we named our collection Olympic Movement 2018/2019.
THE CLUSTER: NEON LIGHT INSTALLATION
MANHATTAN, NEW YORK
Working on the light installation, gives me the opportunity to "stretch" the light. I started the design process with small conceptual models using galvanized wire, that represents the glass neon tubes. Gradually I've transitioned into scaled models, specific to the architecture of the lobby. At that phase I also began considering the technical constrains of the neon installation. All segments have to be 7' max (2,10m), the tube will be 18mm, the light - moon white (2400 Kelvin) and so on. Working on this project gives me great pleasure since I am able to combine my art and architectural ideas.
Recycled bicycle inner tubes, red and orange rubber bands, 4'-6" x 4'-6" , 2016 New York.
Special thanks to Nomad Cycle for providing me with endless supply of used tires. Thank you New York for all the potholes
Pup Van Winkle
MAGIS PUPPY LOVE DESIGN CHALLENGE
HERMAN MILLER, NEW YORK, 2018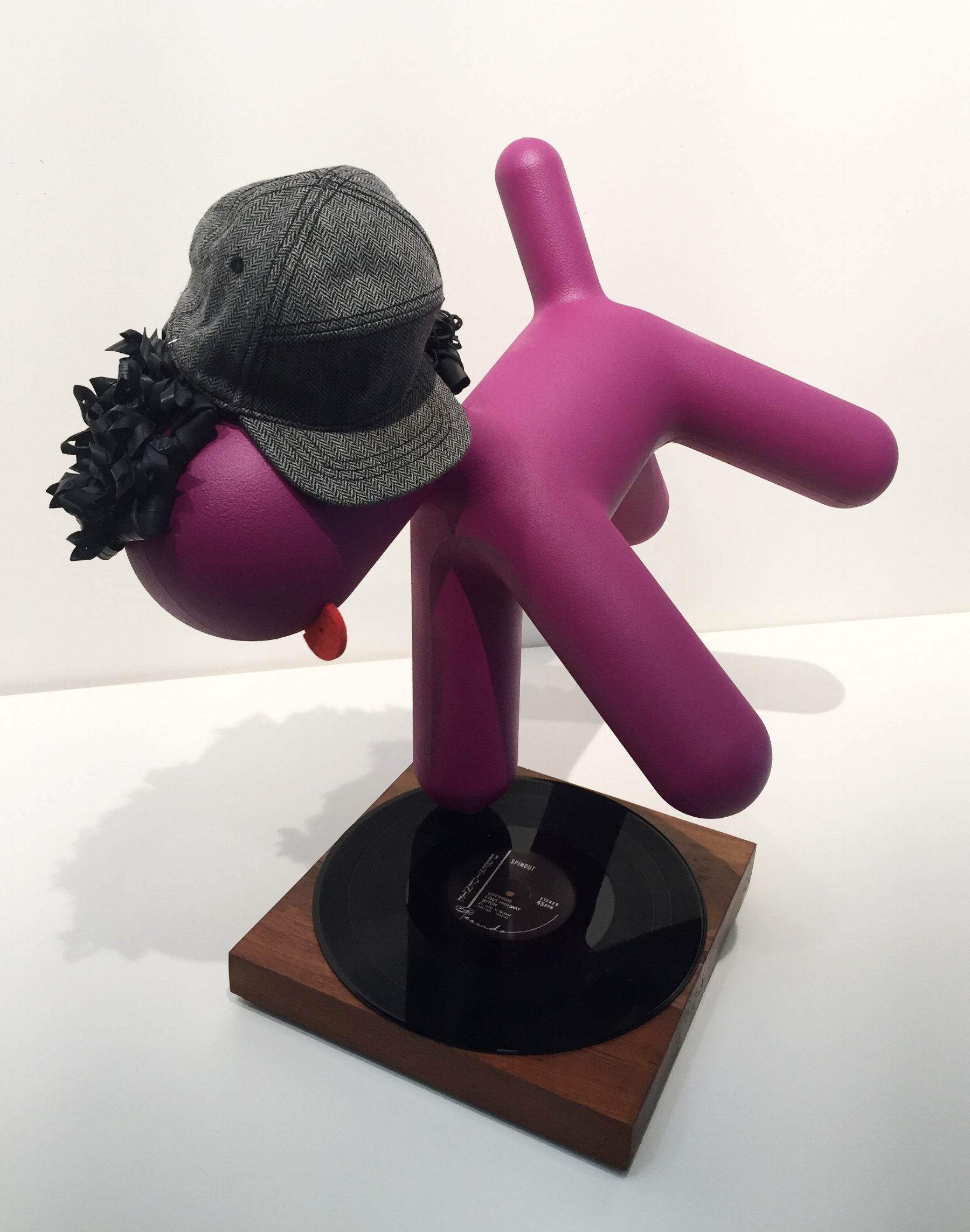 Herman Miller Collection and Creative Office Pavilion provided one white Magis Puppy to each of 20 NYC A&D firms to transform into a playful puppy sculpture. I was part of team of FXCollaborative colleagues. We reimagined the Magis Puppy into "Pup Van Winkle" for Herman Miller's Puppy Love design challenge. Inspired by the vibrancy of New York City, our team spray-painted the Eero Aarnio-designed molded plastic dog, used bicycle inner tubes for hair, and mounted it at an angle, transforming it into a hip urbanite who "breakdances" on a vinyl record. Proceeds from the event went to Social Tees, a not-for-profit no-kill animal rescue in the East Village
INSPIRED
BUBBLE RINGS FEATURED BY designed by dimana arnaoudova
Special thanks to my very talented niece Dimana. It is a joy to be featured at her latest collection, inspiered by the art of Kandinsky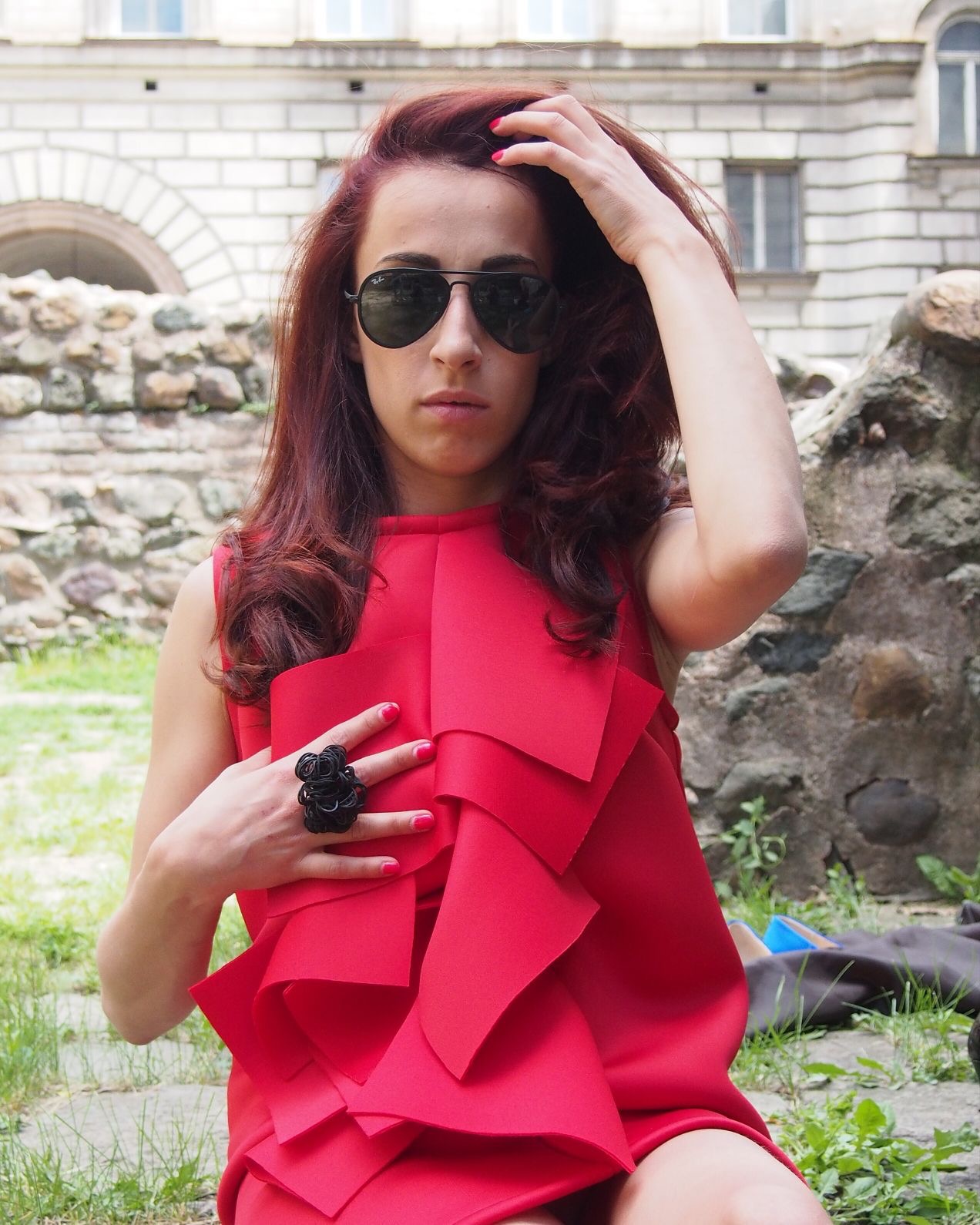 Thank you Katy! Thank you Grace! So happy to see my necklaces featuring bay you! / Necklaces - Various colors rubber bands + Industrial felt/
CHRISTMAS COLLAGES
Personal Project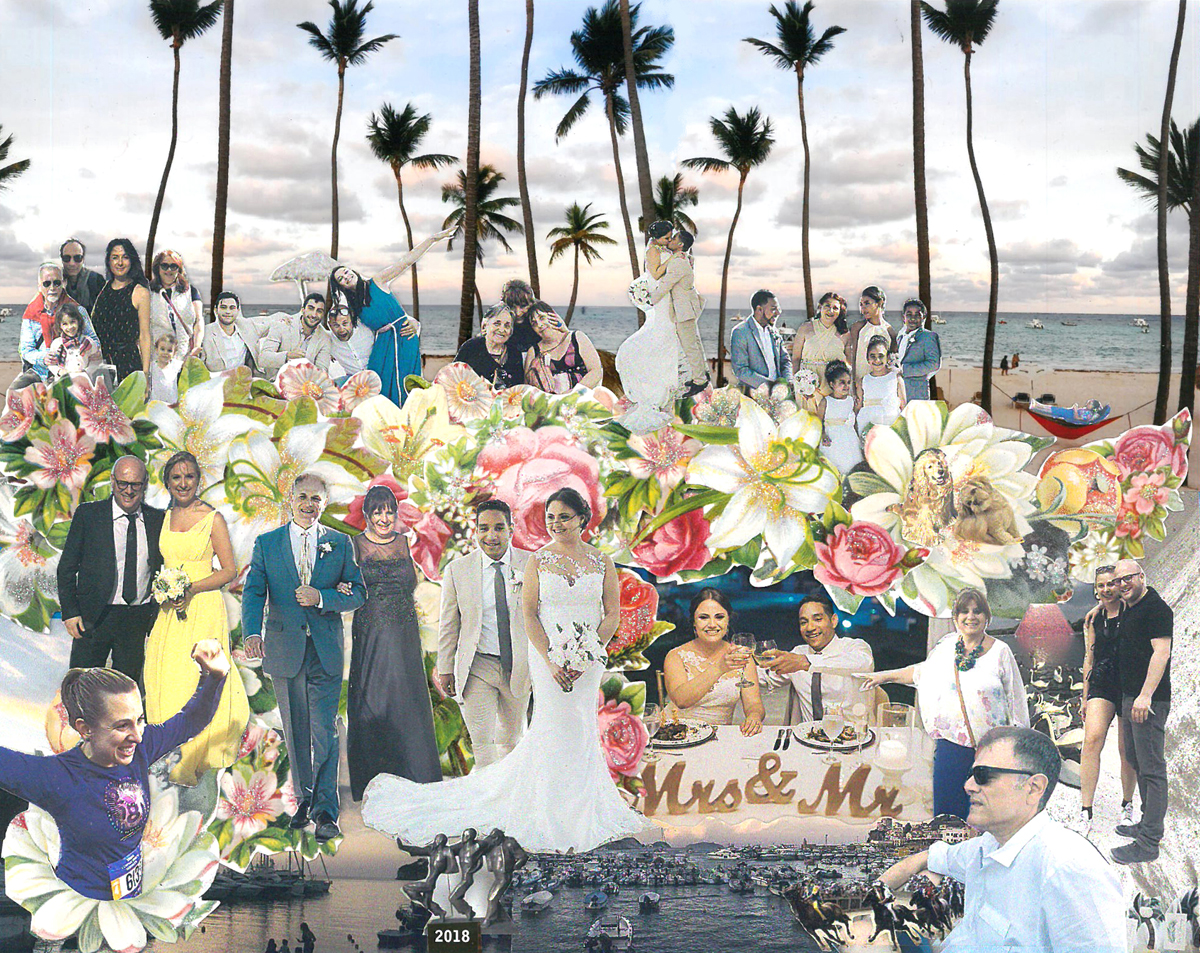 Every year at Christmas time I am creating collages with images from the past year. This "adventure" started as a game with my daughters many years ago. Now I am obsessed with the project. This is my present to friends and family. Hurray for 2018 Let's welcome very happy and merry new 2019!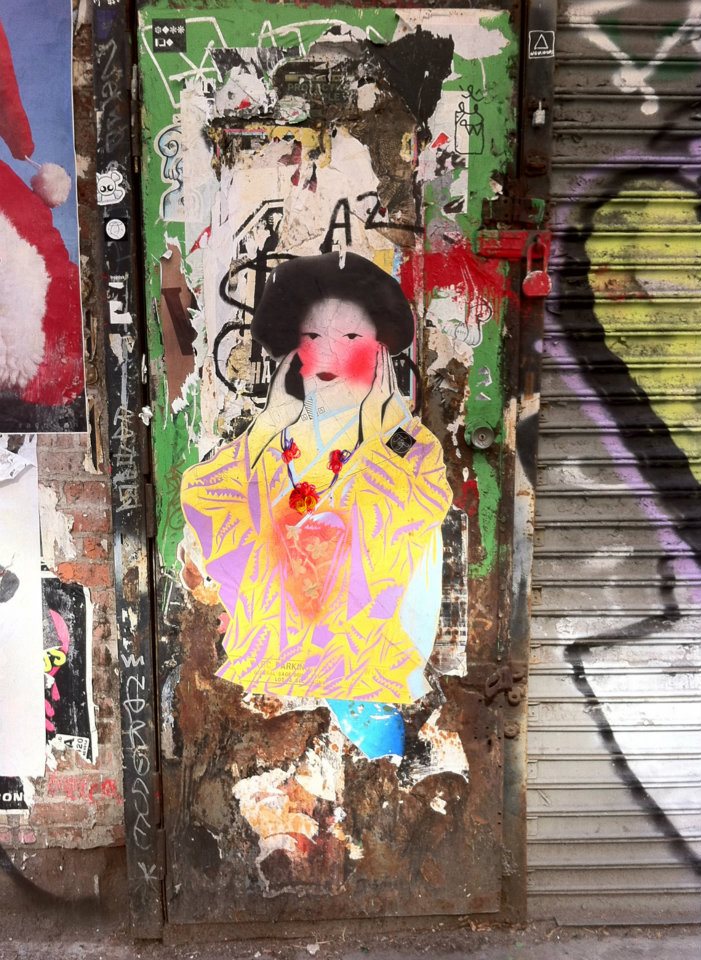 COLLAGES: M2 MEETS PAUL GAUGUIN