Hidden Heroes. The Genius of Everyday Things
Héroes ocultos. Inventos geniales. Objetos cotidianos
2012 - Present, Spain
Vitra Design Museum, Germany + "la Caixa" Foundation, Spain Hidden Heroes. The Genius of Everyday Things
As Hidden Heroes the curators see products that are based on an ingenious yet easily comprehensible idea, that have been produced a billion times over and over and constitute an indispensable fixture of daily life. One of these Heroes is the rubber band. I am happy to share that my necklace Painted Desert, as well as images of RB Dress II are part of this exhibition, to travel throughout Spain for seven years - 2012 - 2019. For additional information please visit my M2 Jewelry Facebook page.
Current exhibition is held at Llano de Samper, de Jaca. Spain; July 31st - August 29th 2019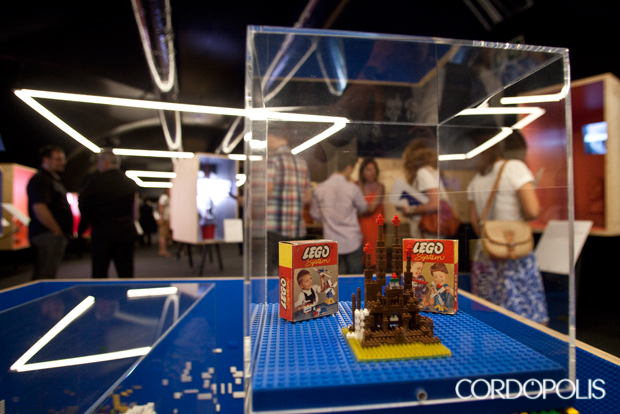 What makes a daily used object turns into a hidden hero?
It has to do with something related with an invented idea but easily comprehensible. The hidden heroes are objects that have been manufactured million times but that keep on being indispensable in our daily life. They are objects that have showed their value ones and again and that, in essence, have remained unalterable during decades or, said in another way, are classical daily objects.
With the objects, the images and the videos that are presented in this exhibition we pretend to show four particularly interesting appearances:
The innovation: the fascinate history of the invention of these objects.
The production: the technical conditions of their successful manufacture on a large scale.
The evolution: the historical development and the amazing diversity of models and variations that have generated.
The inspiration: the aesthetics that continues inspiring the work of artists and designers.
Elegant Threads: Wearable Art & Surface Design
Lighthouse Art Center, Florida
Valley Curtain, necklace, various colors rubber bands, 26"
TOTEM II
ART BY ARCHITECTS
New York 2018
Rubber bands; recycled bicycle inner tubes; wire; 24"x36"x6"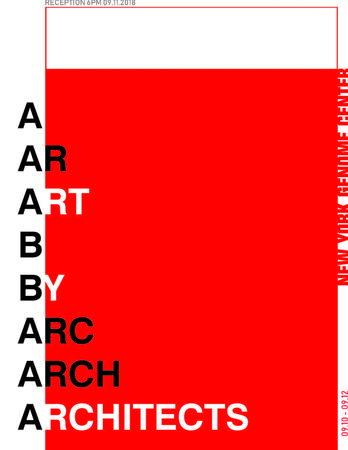 VESTIPHOBIA CUBA: RB DRESS V: ¡VIVA LA GOMA ELÁSTICA!
New York - Havana, Cuba 2017
Rubber bands; white, gray and clear rubber elastic band; recycled bicycle inner tubes; recycled clear plastic bottles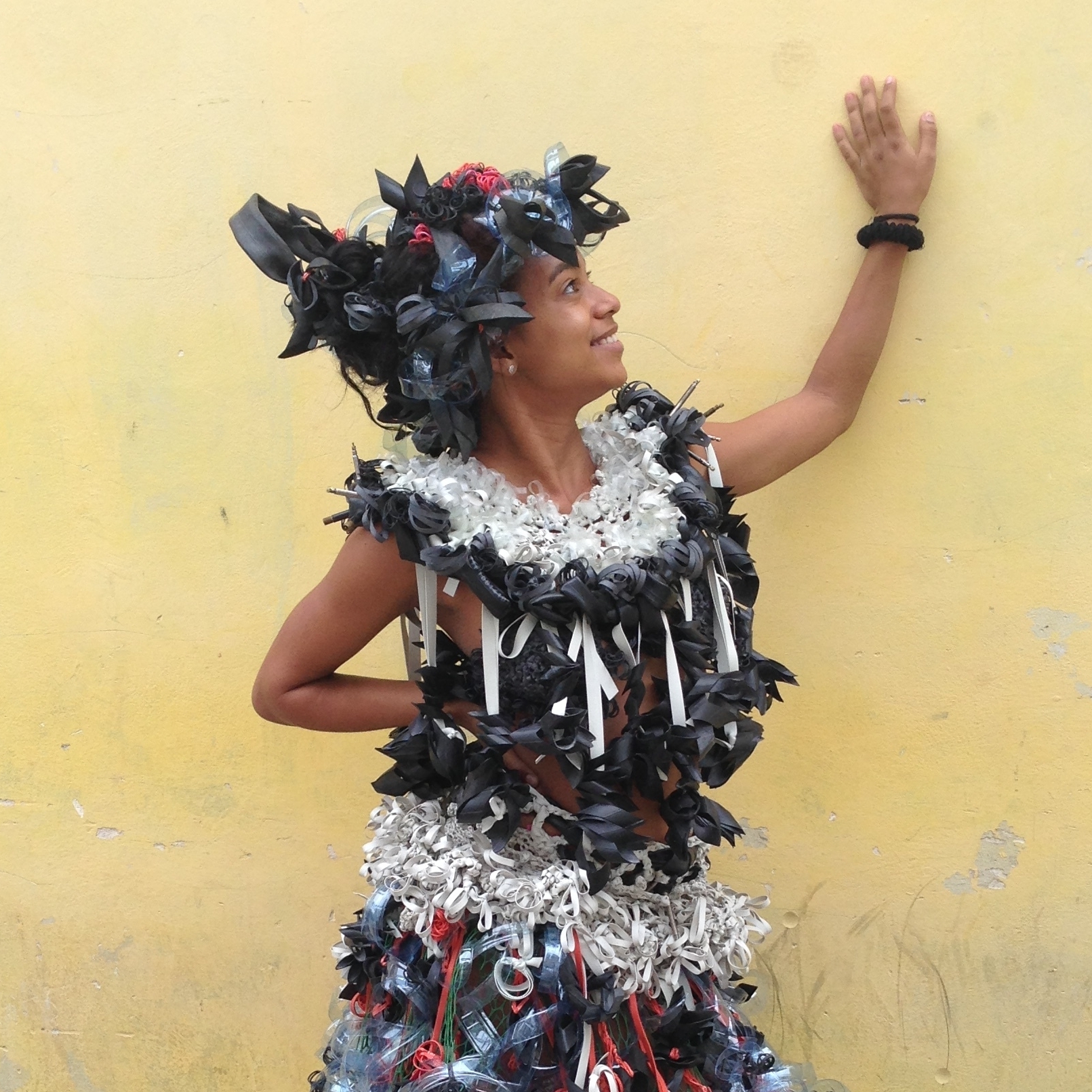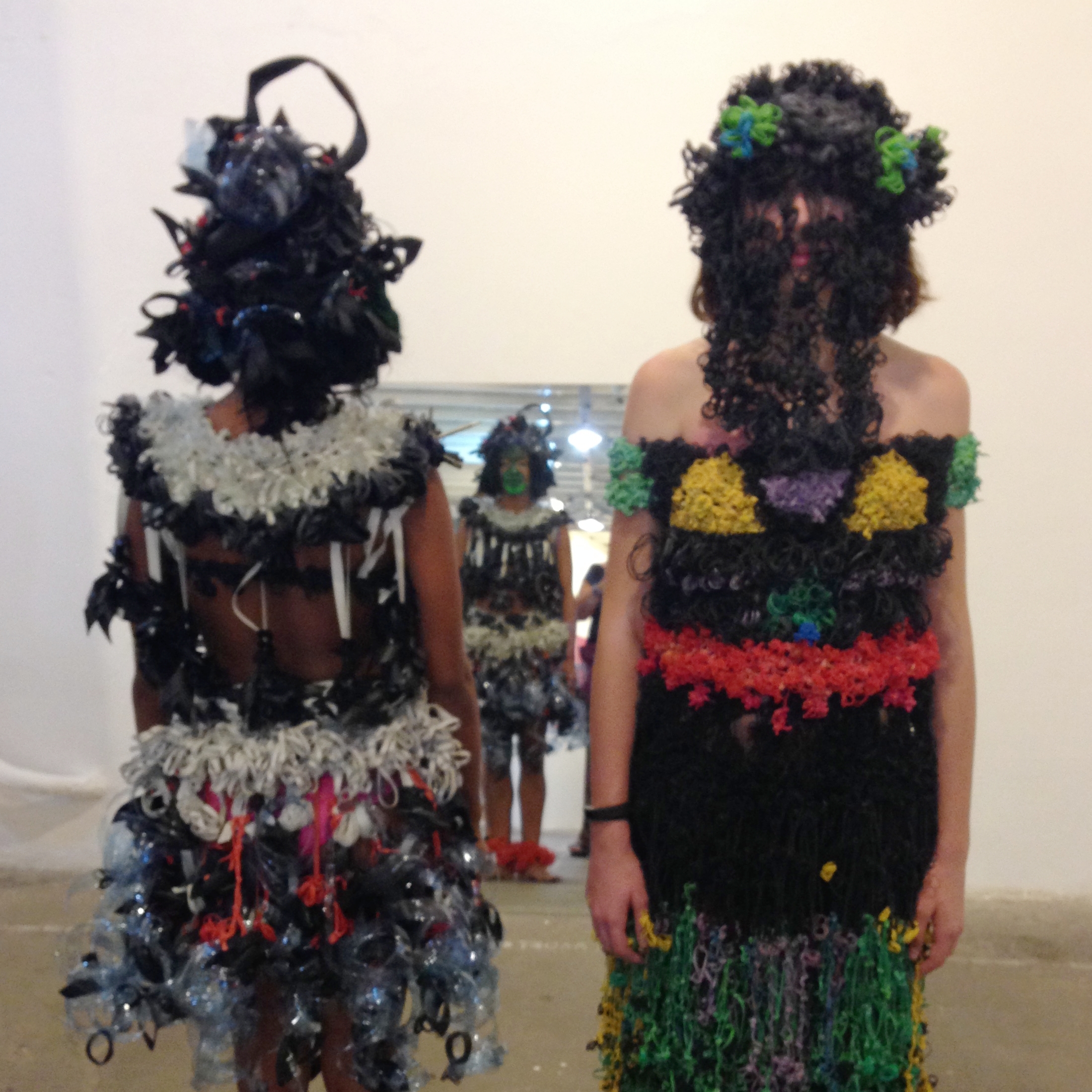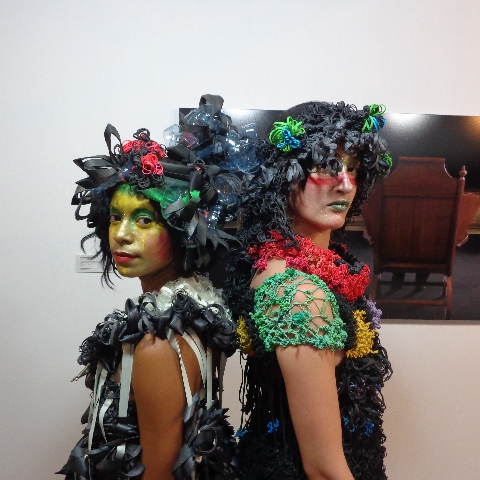 RUBBER BANDS: SOLO EXHIBITION MARGARITA MILEVA
SKLADA, SOFIA, BULGARIA, 2014
ЛАСТИЦИ - ИЗЛОЖБА АРХ. МАРГАРИТА МИЛЕВА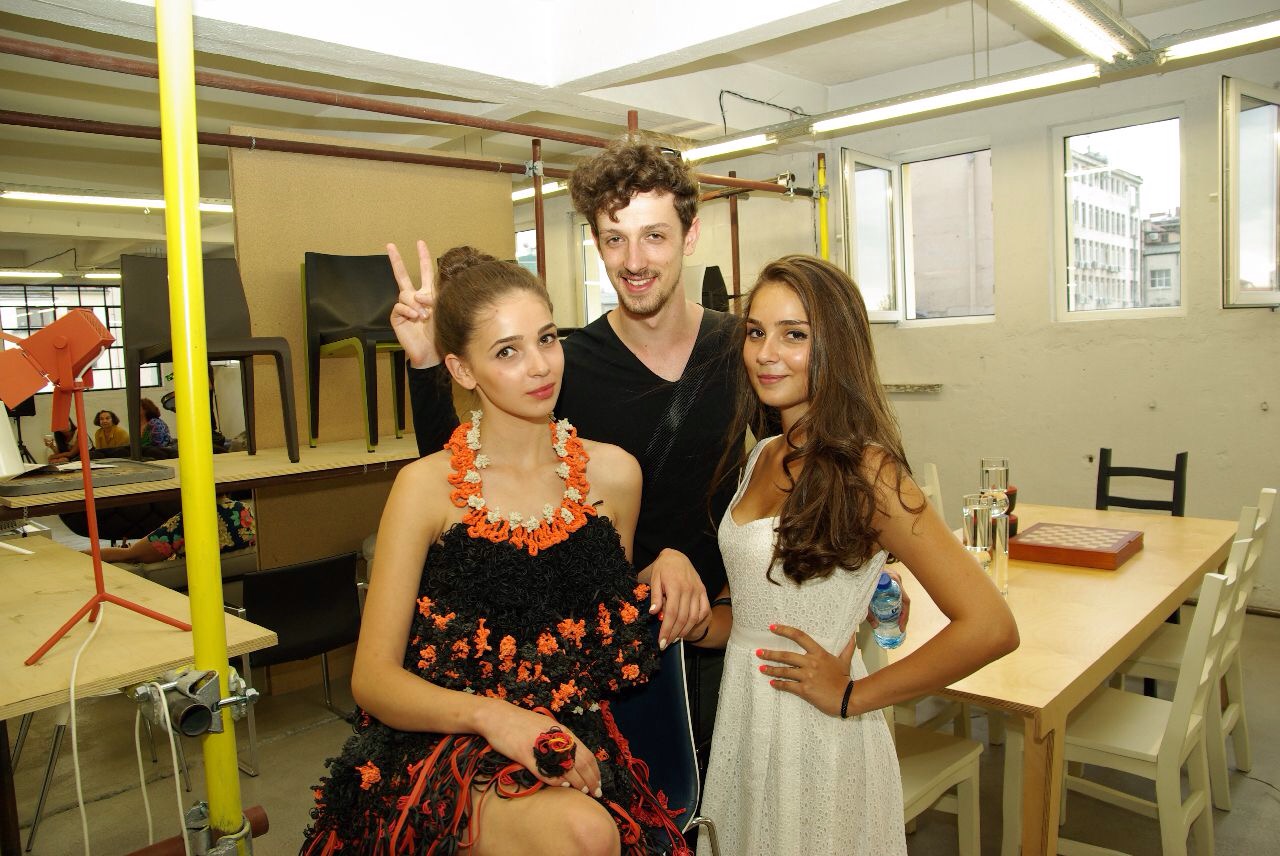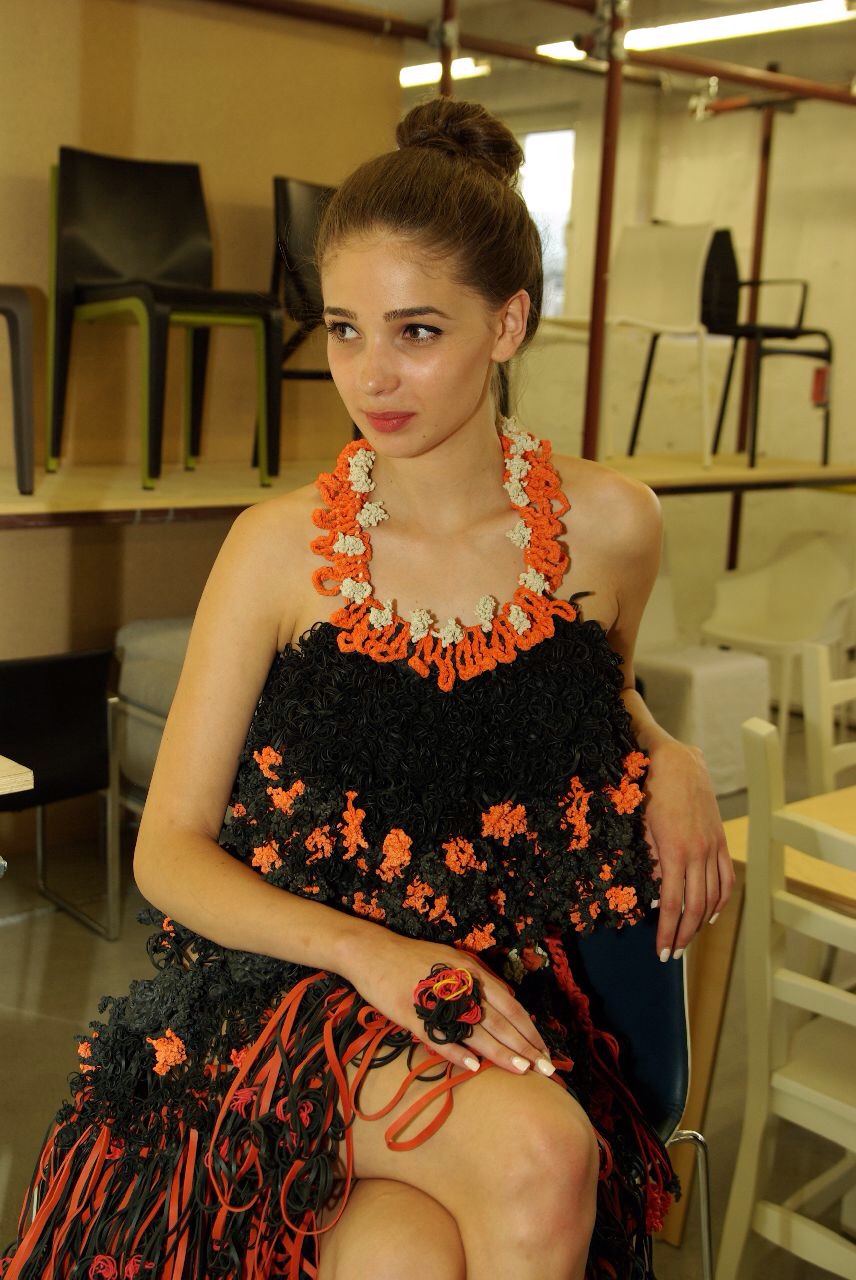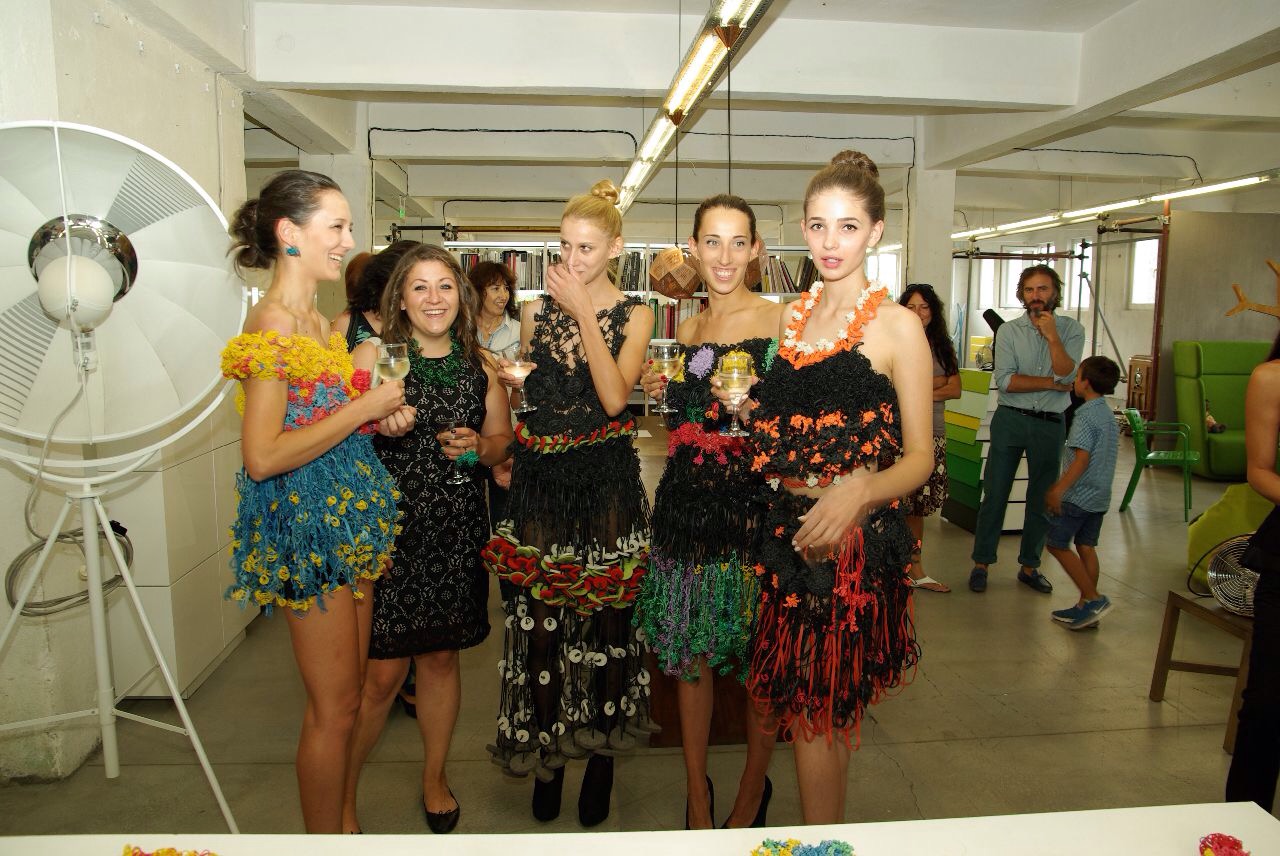 Couple of years ago I developed the conceptual project "Recycling of the Architectural Office". The ever-changing character of the contemporary architectural office, where standard tools become obsolete, in lieu of digital technology, inspired particular collection of accessories and fashion garments where I began reusing different office supplies as paperclips, punched business cards, eyelids, rubber bands, mosaic stones, presentation wire binding elements, felt scraps, etc. I was experimenting with new materials in order to defy and reinvent tradition. Later on I continued working mainly with rubber bands. By selecting rubber bands as my material of choice I would like to open our senses towards alternative materials, recycling and upcycling. I believe that we have to be environmentally responsible and conscious about our surroundings. I see my work as a creative response towards finding new sources and expressions. I would like to think that I am successful in the making of our surroundings more "visible" for the people. My works are presented in galleries and museum stores in USA and Europe.
Rubber Bands is my first solo exhibition. I hope that you will find it interesting, inspiring and intriguing.
For additional information regarding the exhibition please visit my SKLADA on M2 Jewelry Facebook page.
NBC Today Show, NEW YORK, USA
January 2013
6x13 : bell presents Design Alliance at IMA
Indianapolis Museum of Art 2012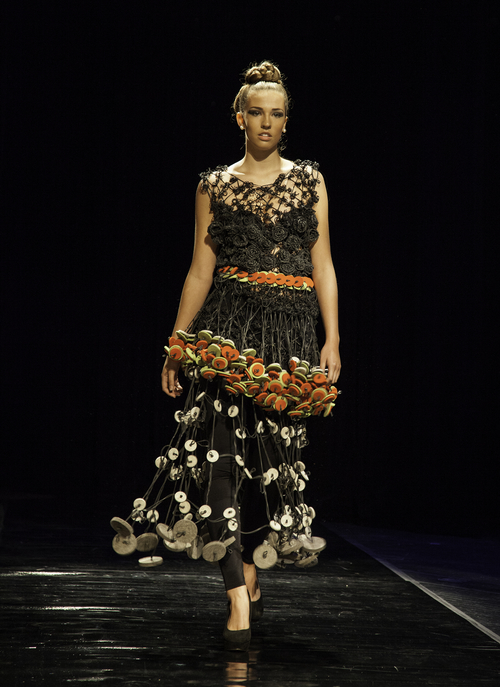 Bell, The Elizabeth and Stephen Taylor Fashion Design Award winner for 2012 Project IMA: IN:spired, Indianapolis Museum of Art, USA.
Bell is inspired by evening dress from Norman Norell
Materials: black rubber bands and biodegradable industrial felt scraps.
Project IMA is a unique runway fashion show featuring an eclectic mix of one-of-kind designs by local and national, artists and fashion designers. Selected participants will present exciting, avant-garde work inspired by clothing on view in the IMA exhibition, An American Legacy: Norell, Blass, Halston and Sprouse. Featuring outstanding examples from the IMA's permanent collection, the exhibition highlights the work of four renowned fashion designers, who hailed from Indiana: Norman Norell, Bill Blass, Halston and Stephen Sprouse.

For more information please visit: Project IMA: IN:spired
Bell @ frames 2:30 to 3:00
VERNISSAGE WEAR IS ART IN ADMIRALBRUECKE
DAMSTUHLTRAGER, BERLIN, GERMANY, 2011
WEAR IS ART
"A city redefined several times in the last century, Berlin is an unparalleled example of the reflexive relationship between artist ingenuity and the society from which creativeness is derived. Berlin's turbulent modern history has marked it as a place of eternal renewal, where starting over is not only possible but essential. This legacy of perpetual motion has attracted artists and designers to Berlin for decades.
Honoring this unique dynamism, "WEAR IS ART" presents original works exemplifying how fine art transcends white walls and gilded frames into a fashionable style. From a Flamenco dress of interactive LED lights to a modern Victorian ensemble topped with a soaring headdress of shot glasses to a gown comprised of over 15,000 rubber bands to a projected outfit – Wear Is Art includes new works that re-envision subject matter, mediums and styles of tomorrow's visual culture.
Inspiration:
Unique contemporary art pieces by emerging and established talents in the Arts or Fashion are included in a one-month exhibition and performance event at two public sites of the city of Berlin. Embodying the city of Berlin's energetic meld of reinvention of style and form, WEAR IS ART is a platform for innovative ideas that add to the defining elements of the past. " Vernissage Wear is Art
For additional information regarding my entry please check the following links: RB Dress II, Inspired by The Bauhaus and the work of Paul Klee:
RB Dress II and Wear is Art.
440 GALLERY / BROOKLYN
SIXTH AND SEVENTH ANNUAL SMALL WORKS SHOWS
440 Gallery curates annual Juried small work exhibitions with a selection of work by artists from Brooklyn and all over the country. The art work, all under 12 inches, included painting, sculpture, printing, drawing and photography.
BOFFO SHOW HOUSE 2012 / NEW YORK
PLAY HOUSE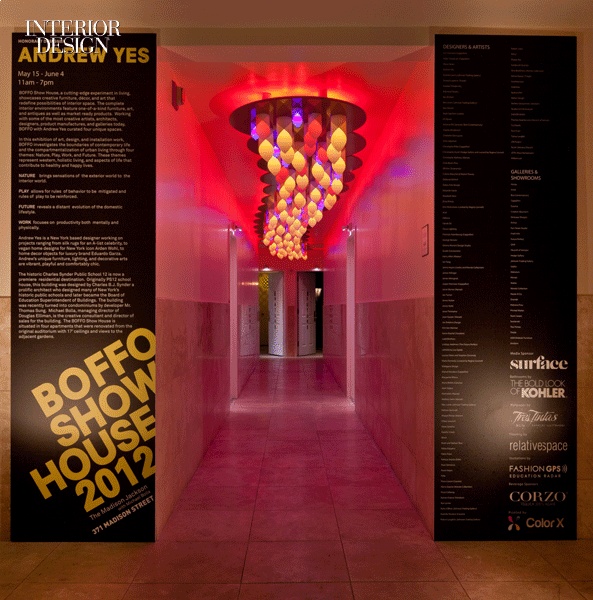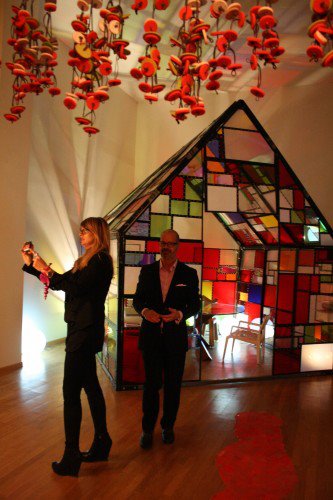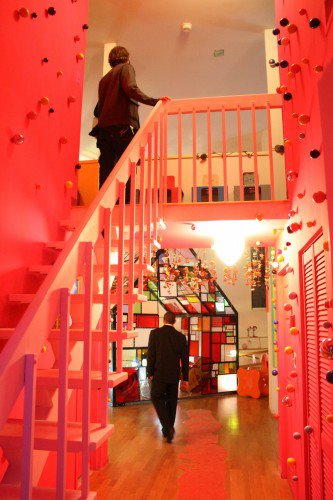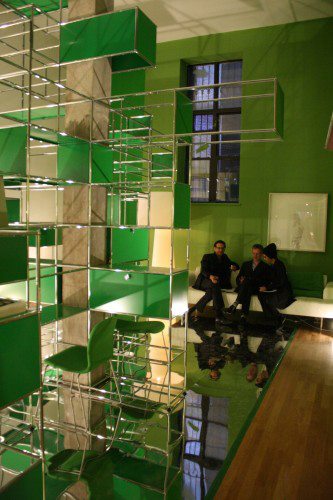 Boffo Show House 2012 at The Madison Jackson - 371 Madison Street, NY NY
This exhibition of art, design, and installation work in Interior Design is presented through four themes. These themes include Nature, Play, Work, and Future. The goal of these themes is to allow BOFFO to investigate the boundaries of contemporary life and the compartmentalization of urban living while questioning standards of interior design. These themes are representative of what is western, holistic, living, and what aspects of life are important to healthy and happy lives.
NATURE: brings sensations of the exterior world to the interior world
PLAY: allows for rules of behavior to be mitigated and rules of play to be reinforced
FUTURE: reveals a distant evolution of domestic lifestyle
WORK: focuses on productivity both mentally and physically
Each theme will be represented by one of four individual apartments re-imagined with one specific theme. Each apartment is a bi-level two bedroom apartment between 1300-1800 sq ft. The goal of portraying these concepts is to allow the installations to play with convention and challenge the norms of contemporary interior design.
The Play apartment is dominated by Tom Fruin's Maxikiosco peaked-roof house of colorful panes, framed by Crouscalogero (Estiluz) balloon lights. To get to it though, you must first pass through colorful rubber band installation by Margarita Mileva. Upstairs is a "Victorian" dollhouse by Snøhetta.